People attending this years'  Play4Agile 2014 were asked to blog their answer to these simple questions:
Who or what brought you to Play4Agile in the first place?
I saw Olaf post a tweet about the first one in 2011 and started following Katrin then too, but couldn't make it. I was able to meet both of them at ALE2011 along with lots of other amazing people who inspired me very much, and life's never been the same since.  I have them to thank for opening my eyes to the many possibilities which I hadn't seen before.
What kept you from coming back/ what keeps you coming back?
I keep coming back because of the fun and the learning with these wonderful people in such a playful environment. And it's good fun as there's always something that I take home and use whether it be an idea, or games to use, or a better understanding of coaching and facilitation. I wrote about p4a2013 already.
How did Play4Agile make a difference in your life, your work and/or your community?
The takeaways of bringing in fun and games into the workplace and my teaching. This has helped make work more fun and keeps bringing new challenges because I've learned to keep moving out of my comfort zone as that's where the magic is according to Pete's drawing from last year.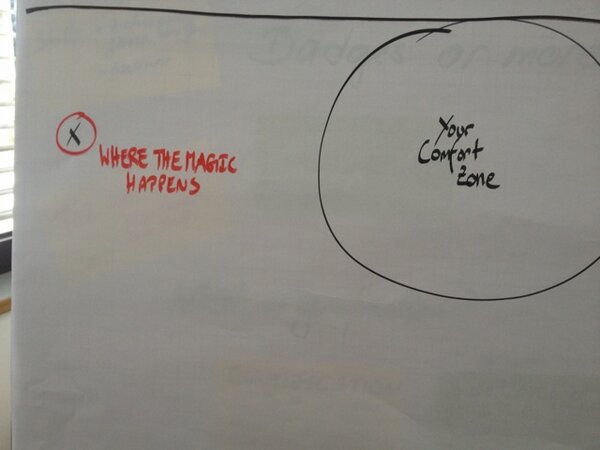 Where the magic happens
Did you change jobs because of your experiences at Play4Agile or took a sabbatical?
I didn't need to change my job to make the new direction, as there is enough freedom to change how I do the job. I can modify how I do the job and bring games into the classroom.
How might you bring the unconference forward?
The key factor of p4a is the people who attend and the conviviality of the secluded event. We could provide more interaction before and after the event. For example, in the way that this blog post and twitter events build up the excitement before we attend is good. We could also use something to continue afterwards by using http://www.futureme.org on the last day and setting a date in August when we read them so we don't forget the fun and 'learning opportunities' we had.
What would be your wish for the next 5 years of Play4Agile?
May it continue to be just as fun and exciting as it has in the past and continue to be as relevant to my life as it has been.
I'm looking forward to this year's event when I can see everyone again and have more fun learning with friends.